The Artist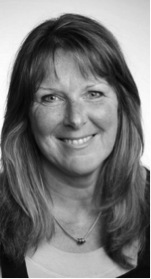 Vibeke Hoffmann produces art works and compositions based corrugated, Acrylic and cardboard, relief, figure sculpture and painting
Country: Danish
My work with the corrugated cardboard is to me what a sandbox is to a child. A world of options, shapes, and play.
Through my job as a designer and product developer in Smurfit Kappa Denmark (corrugated cardboard industry) the cardboard has stuck under my skin.
I love the material and all of its possibilities.
As my big passion and hobby is to paint, the combination of acrylic on cardboard therefore was natural to me.
My works in corrugated started with two reliefs in pyramid shape. Based on the pyramid the reliefs of hearts and flowers were created in a combination of brown craft liner and dyed black cardboard. After that came the happy pigs and the cheerful cows
And it was just the beginning of a large number of works in corrugated cardboard.
Aesthetics and humor are keywords related to my work. My desire is to get the viewer
to smile and be happy.
No two works are similar, as the whole process is handwork.
The reliefs are built up in layers, and acrylic paint applied to the visible part, then the individual layers are glued together.
Some of the artworks have been completed by different kind of external materials.
It all started just for fun! But the works were soon sought after by decorators
and used as decoration in e.g. spectacles shops throughout Denmark.
"The Royal Dachshunds" was created in connection to a decorative exhibition in Graasten,
where Queen Margrethe and Prince Henrik sped their summer vacation every year. Their dachshunds were an inspiration for me, as well as Crown Prince Frederik and Princess Mary just had their second child, the little princess Isabella.
The "Royal frogs" was created for an exhibition where children could get inspiration for their own creative artwork.
You do not believe that the seahorses are made out of cardboard - but they are!
However, there is no doubt when you look into the eyes of the corrugated parrots – the are made of corrugated cardboard.
I hope that my artistic use of the cardboard has created interest to you.
Vibeke Hoffmann
Gallery
WebSite/Contact
website :
www.hoffmann-art.dk
{tab

News/Exhibitions}
{tab

Videos}