I created this artwork year back of iconic Army recruitment poster the U.S. for the Army featuring Uncle Sam.
I switched some of the wording to read recycle and added the chasing arrows motif behind for emphasis.
This was a huge artwork for me and the photo has been published many times over.
I still get requests if the artwork is available being so popular.
This piece was also on the front cover of CTN green (Consumer Trend News Green) beating out the spot that was to be occupied by rocker Sheryl Crow of all people.
As it turned out pictures of her were not available so they opted using my art on the cover (see my web site for link to it www.langanart.com).
I used heavy foreshortening techniques to create the likeness.
Aside from the finger point that extends outward about 5" everything is within the scope of the frame depth at 2.5" and used different thickness and placement of board for illusion.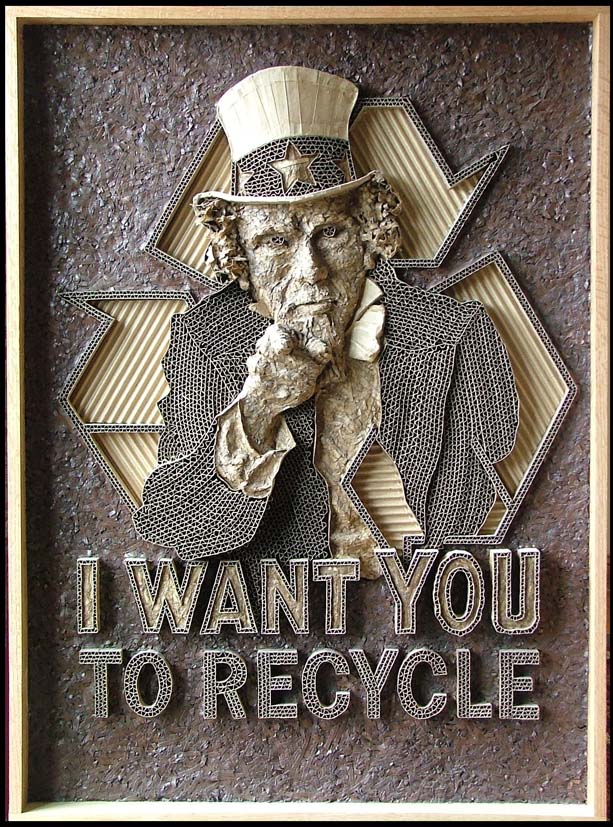 This artwork was the first piece purchased by Ripley Entertainment and now resides in their Atlantic City, NJ museum.
Artwork dimensions: Height: 33.5" x Width: 24.5" x Depth 2.5"
Copyright Mark langan
www.langanart.com