The Artist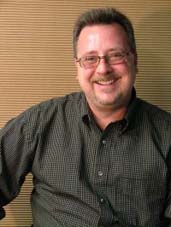 Mark Langan
in a self-taught artist who resides in Brunswick Hills, Ohio a suburb of Cleveland.
He left a 20+ year career in the transportation industry and, since 2004, has been expressing his creative aspirations thru the creation of unique interpretive sculptures from an unlikely source as an art medium...recycled corrugated boxes.
Although being well versed and adept with numerous artistic media, he has concentrated his focus on working strictly with reclaimed material. Mark's "green" art carries minimal environmental impact as his tools consist simply of a razor, knife, cutting edge, rule & mat, along with used boxes and non-toxic white glue.
Mark shies away from the term "green" but, none-the-less, it is an apt description of his art by today's standards.
He created sculpture using reclaimed materials long before fashionable buzz words like sustainability and eco-friendly became commonplace. He feels it would be naive for him to claim that he's making a huge dent in reducing waste material going into landfills but as he states, "It is something rather than nothing."
Mark has achieved success by marketing and targeting his art to diverse venues that include commissions by paper and corrugated manufacturers, packaging companies, recycling firms, green industries and related businesses.
His artwork can be found in boardrooms and lobbies from small to prominent firms throughout the U.S. His art connects with them by being physically and psychically relevant to their businesses.
His meticulously detailed sculptures exemplify today's "less waste" movement by finding beauty in one's trash.
Mark strives to inspire others to hopefully rethink what they consider as garbage and, thus, allow them to examine their own contributions to society.
Mark Langan
's art puts an aesthetic twist to the once mundane and cries out...reduce, reuse, and recycle!
Many Artist's get out there with some silly stuff about connecting to the cosmos and so on. Mark creates art because he simply likes working with his hands and want to basically creates something from nothing. God has given he a talent and he very appreciative of having it on loan temporarily.
Gallery
WebSite/Contact
News/Exibitions
Vidéos