The Artist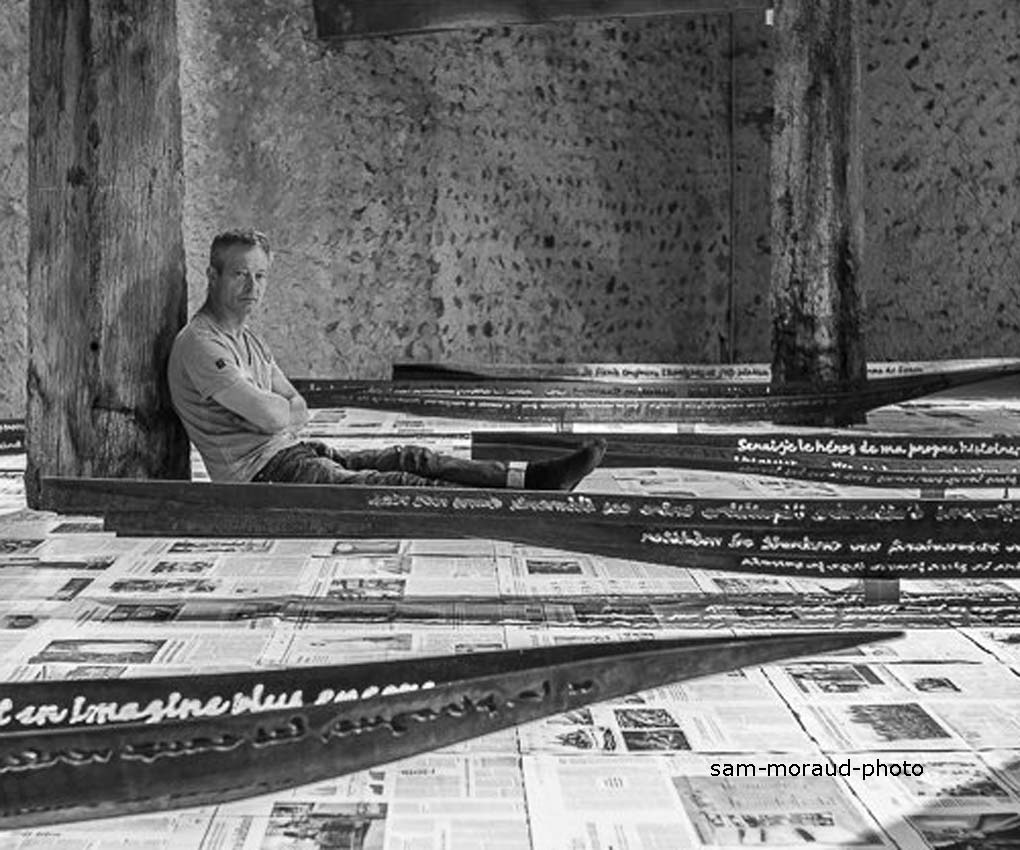 Vincent Gontier is a exceptionnal visual artist.
Lives and works in Voiron near Grenoble.
Born in 1962, in Fourmies in the North of France, he is a graduate of Fine Arts in Rouen and Cherbourg in 1987, he moved to Grenoble that year.
From 1991 to 1997 he is represented by Antoine de Galbert gallery with which he participates in various exhibitions collective and solo.
Since 1990, he exhibited his artworks in France and abroad, including the United States, during a workshop led by Anthony Caro, Britain, Poland, Finland in Kuopio Museum, Switzerland, Belgium and New Zealand.
Beginning 2016 he has presented, the "Sunshine Days" exhibition, to the Museum Hebert La Tronche
"Fascinated by the secrets and mysteries of our daily lives, our sheked existence, the jolts of the world ...
I chose the paper of newspaper that compiles all the signs of life, the metal who structure and the associations who bring together. " (V. Gontier)
I like what the fotographe Samuel Moraud on Vincent Gontier:
The work of Vincent Gontier is a quest, looking for truths, of its truth. In his art remains a constant, ambivalence, oppositions: between strength and fragility, between the hard and the soft, between full and empty, between the permanent and perishable ...
The Hebert Museum said about him:
Vincent Gontier made of newspapers, the ephemera printed that accompany our daily life, his trademark.
For almost thirty years, the sculptor assembles, folding and unfolding, involving volume oppositions: fragility, strength, flexibility, rigidity, paper and steel. It forced or release these materials, shapes in an aesthetic and poetic dimension. The "Compactus", combining bundles of newspapers and steel with the « Croquis sculptures », which are their reduced versions, then the "Synapses" and "Origami", where the single sheet of paper is finely wrapped or folded, testify about his obsessionnal interest for the printed newspaper.
With "Jours de soleil", the name of a series of "Drawings burned," resulting from the recent research of the artist, and the title of an exhibition, we witnessed the final stage of its relationship with the paper.
With these new drawings, Vincent Gontier restores the newspaper in its initial information function: the flattened sheet is opened for reading.
The heavy load of paper take complex geometric shapes, soft and wonderful. As it use often newsprint, his artworks function as the memory metaphors : the compression of the time wrote the souvenirs in a form that combines stretching and acceleration, singularity and continuity.
The sculptures of Vincent Gontier combine paper and steel, in a power relationship where the paper is tight, pressed by steel structures and at the same time the fragility of the paper highlighted by the steel jaws, gives all the artistic and symbolic meaning to the artwork.
Gallery
Web Site - Contact
News/Exhibitions

Individuelles :
2016
Musée Hebert "Jours de soleil" Du 4 décembre 2015 au 4 avril 2016
Gallerie Elisabeth Couturier Lyon Mars Avril Mai 2016
2015
« jours de soleil », Musée Hébert, La Tronche
« Vincent Gontier s'invite au musée », Installation, Maison Bergès, Villard-Bonnot
2014
« Une histoire… », Installations, La Grange Dîmière, Le Pin
2013
« Contraintes de temps », Installations, Château Borel Saint Egrève.
2012
Installation des sculptures « WAKA » à Rochetoirin.
2011
« Waka Rere Rangi », Installation à la Paul Nashe Gallery, Gisborne, Nouvelle Zélande.
2010
« Du Balcon… », Maison de l'Architecture, Grenoble. CE STMicroelectronics Crolles.
Collectives


Vidéos