L'Artiste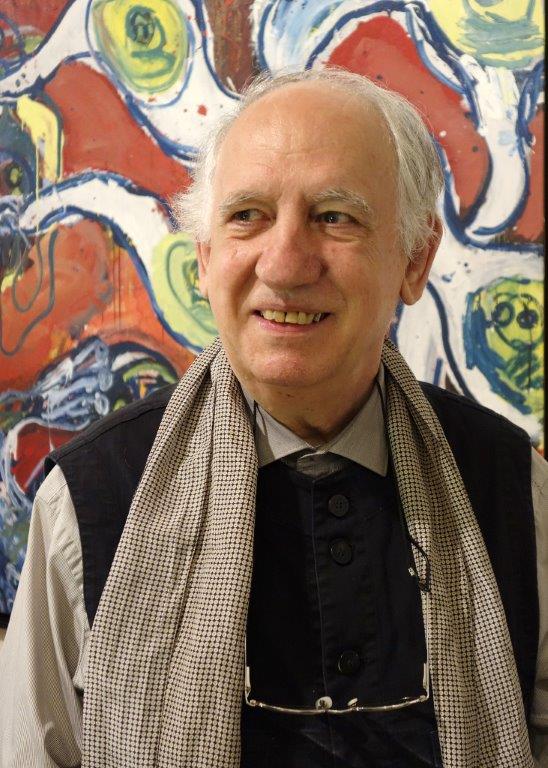 Guy Houdouin aka ODON is an artist with two lives.
He lived at Le Mans, Brussels, and Paris. He traveled around the world to immerse themselves in different cultures. He met and often collaborated with the biggest contemporary pictorial creation names, among others: Alechinski Pierre, Jean Messagier, Arman, Jean Bazaine, Alfred Manessier, François Morellet, Pierre Soulages, Zao Wou Ki ...
It was named Chevalier in 2007, in the Order of French Arts and Letters.
In a former life he was a professor of plastic arts and painter.
In his artworks the characters were already connected by thread or bands of colors.
He painted complex figures on canvas and paper mounted, expressionistic, trapped in the tracery, ropes, rings, ribbons, little by little, on the canvas, began to cross.
At these tortured artworks have succeeded in the second half of the 1970s, the first braids.
Following an accident in his life he became in 1997 to are ODON: anagram of "nodo" knot tracery in Italian. I was looking for to simplify Houdoin. In 1997, a Norman friend tells me of the Odon river running through Caen and I feel very Norman! It also happens that I also greatly admire Odon of Cluny, the second Abbot of Cluny. Moreover, Odon is already in Houdouin and this new name is formed with round letters. Now I only creates circles ... "
His art is moving at the same time to weave the paper: paper for its availability, and for its plastics and tactile qualities.
Kraft paper is painted and folded, twisted, flattened, pasted, and at the end braided.
Weaving represents well the complexity of our world and life.
The flexibility and plasticity of the paper related to the infinite possibilities of the types of weaves.
ODON offer a way to produce artworks of the most surprising and diverse mode.
He chose this way as the first braiding art by essence.
The "wild" volume as an evolution, I feel good in this job.
I create because I need it, I feel this desire. Braiding is universal, it is a primitive art. It allows huts, clothes ... Aboriginal Australia or New Caledonia weave as we. "
Each node is braiding a different stage, a crossroads.
The results braiding often have a recurrent form: the spiral.
This form with its rotation creates space and time division.
But also the spiral as:
- A symbol constellation of our existence in the universe,
- An image of infinity, cosmic, mystical, spiritual,
- The vortex of life, creator of all things.
- The siphon that connects different worlds, opening new spaces.
- A source of meditation and philosophy.
His works play on the finite and the infinite, the built and the unfinished, gigantism and smallness.
Also hiding in his works other symbols like the number 7 whose symbolism is vast: from the divine perfection in the resurrection. Odon remember it is found for example in the famous painting by Veronese, The Wedding at Cana: "We see six pitchers, the seventh is hidden and guess" ...
Odon is not located in particular in a stream of creation, he continues his dialogue with the mysteries of life.
Odon is a mystical weaver, a weaver of time, which weaves into his works, life, dreams, infinity, .......
Galerie
WebSite - Contact
Site:
www.odon.fr
Email :
This email address is being protected from spambots. You need JavaScript enabled to view it.
Pour toutes demandes d'iconographies destinées à la presse, prenez la monographie en référence et adressez nous un mail détaillé.
Merci
News/Exposition
Solo
2016
Paris à la Galerie DutKo, "Spirales contrariées" du 26 novembre 2015 au 13 février 2016
2015
"odon, retour à la source" Eglise abbatiale Baume-les-messieurs 5 juillet - 27 septembre 2015
"odon, l'exception et le silence" Matmut pour les arts, Centre d'Art Contemporain, 
Saint-Pierre-de-Varengeville 5 juillet - 27 septembre 2015.
http://www.matmutpourlesarts.fr/expositions/odon/odon.html
Années précédentes :
"odon, Weaver of dreams FIAF" FIAF, New York, USA, 2010
"odon" Musée d'art et d'histoire, Chôlet, 2010
"odon, Gloria" Ecuries de Saint Hugues, Cluny, 2010
"odon, ici et maintenant" Nogent sur Marne 2012
"odon" Monastère Royal de Brou, Bourg-en-Bresse 20/10/2012 au 24/2/2013
Collectives
Vidéos