The Artist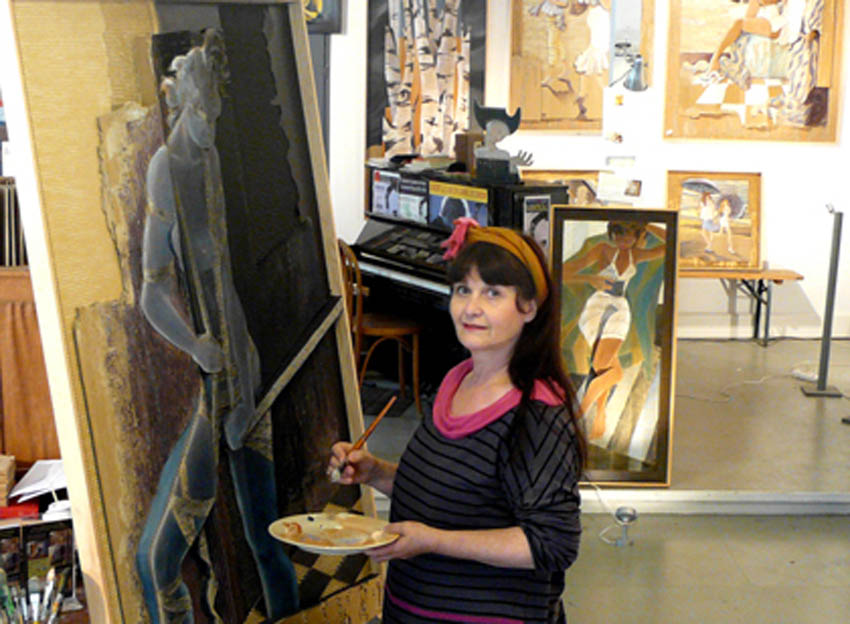 Françoise Amadieu

is a painter who works with paper and corrugated board first. His artworks are exhibited in France and abroad and in many private collections and even a museum in Japan. She live on the Southwest of France (Gers) since five years

In creation, when we talked of material, color, composition, subject, everything has been said since there is not to say more, but to feel.

Still the support this great forgotten. Why canvas, paper, wood, glass, metal ...?


And why not the corrugated board?
Cardboard, first it sounds good, then there is its material, its color, its surface virgate, and then its light weight, strength and sensuality. Yes, the cardboard is first of sensuality. The softness of her touch, the vibration of the cutting, shaping its flexibility ... this does not prevent the strength and resistance of the artwork or the object constructed.

I've always loved paper-cloth layer and kraft. I discovered the cardboard in a design contest and painting. I was pleasantly surprised by the quality of the material commonly used for packing for use ephemeral then discarded.
When the card is ready for the artist and shaped to his hand, his flute looks great and it feels grow wings. Randomly my artistic path I discovered this material that I was in full correspondence. He became my preferred medium, and my creations have therefore taken off.

I worked a long time on paper, since the Fine Arts. I loved the kraft paper (which covers precisely the corrugated cardboard). Then, about eight years ago, I participated in an art competition organized by a manufacturer of cardboard furniture. I painted a screen and a chair. My chair was purchased by a museum in Japan. His work area, digging his ribs, cut, bend ... I immediately knew that this would be my medium of creation. I later learned that many famous artists have worked on paper (De Staël, Matisse, Picasso, Bonnard, etc.).
This material proved to be poor a rich, subtle, malleable. I found the material support of my creation. I used to paint the surface and then I went into the deep sculpting his ribs, bending, cutting it to play with light. For conservation work in the time I glued the cardboard to plywood to ensure rigidity and have varnished to protect it from air and moisture. I looked for a ultra matt lacquer which can maintain the quality appearance of cardboard. With a specialist varnish I could find the ideal product that provides optimum protection and sustainable development.

Info +: The Mirande Museum (Gers) has acquired one of its paintings for its collection.

Françoise Amadieu is therefore permanently present in 3 museums: Japan, Switzerland and France.
Gallery
Web Site-Contact
Site web:

www.amadieu.eu

Mail :

This email address is being protected from spambots. You need JavaScript enabled to view it.
News/Exhibitions
Présence in 2017 Galerie l'Avant Port, La Flotte en Ré
Présence in 2017 Galerie Henry Leys, Arcachon.

Bordeaux from 15-17 décember 2017 Expo4arts Hangar 14 – 14, Quai des Chartrons 33000 Bordeaux

Portet sur Garonne from 7 november to 20 december 2017 at the Centre Culturel 12 place de la République

Toulouse, Galerie « La fleurée de Pastel », rue de la Bourse, Toulouse, jusqu'au 4 janvier 2016.
Montpellier, Salon Art3F, parc des expositions du 4 au 6 déc 2015
Nantes, Salon Art3F, parc des expositions du 22 au 24 janvier 2016
Paris, Salon Art3F, Porte de Versailles, du12 au février 2016
Metz, Salon Art3F, parc des expositions, du 4 au 6 mars 2016
Lyon, Salon Art3F, parc des expositions, du1 au 3 avril 2016
Rennes, Salon Art3F, parc des expositions, du 22 au 24 avril 2016
Tadousse Ussau (Pyrénées atlantiques), 8 au 16 aout 2016
Saint-Jean (Tarn, proche Toulouse), 29 sept au 12 oct 2016


Vidéos