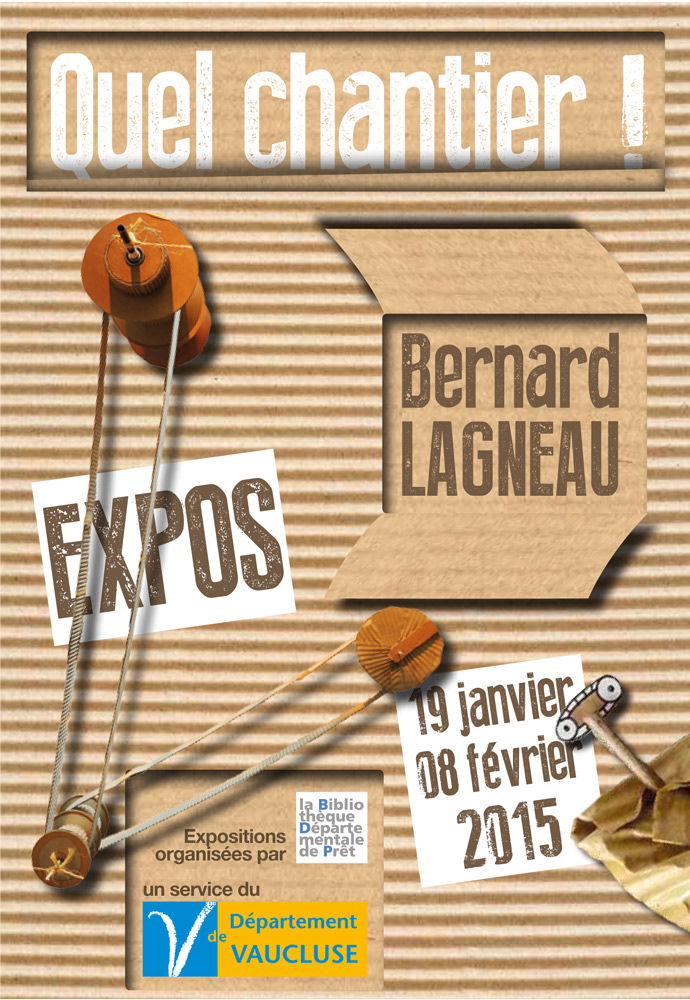 The feast "Outside the city" will enable SIX libraries Drôme and Vaucluse develop specific actions, upstream of the the book Feast.BOP Vaucluse joins this feast in presenting works of Bernard Lagneau artist in accordance with the theme of the show. The theme this year is "What a site! ".
In this context the special exhibitions are mounted by the Departmental Library Ready to Sorgues part of the 31st Saint-Paul-Trois-Châteaux feast of the book for young people organized from January 28 to February 1, 2015 :
BDP, Sorgues, from January 21 to 30:"The Father Lachaise" monumental sculpturesLibrary Grillon from 19 January to 2 February"Père Lachaise and mechanisms"Library Lapalud from 27 January to 8 February:"Huts and temples"Library Mondragon from 23 January to 2 February:"Ludic Models "Library Vaison-la-Romaine, from January 20 to February 4:"This is the site at the library Vaison"Library Visan, from January 19 to February 2:"Huts and mechanisms"
The themes of each of these exibitions are works of
M Bernard Lagneau
" utopian architect " and artist will install its machinery or concepts in 6 different stage sets. Since 1970, using corrugated cardboard as the base material, M Lagneau began with this material an installation work "mechanisms" in various places in France and abroad (Germany, Switzerland, Hungary, ...) and the construction ephemeral architectures installed in museums but also in public places.
-> Download the Brochure