The Artist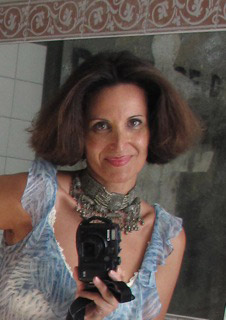 Painter in the wake of the new narrative figuration, skillfully wielding oil, acrylic, inks and resins, VALMIGOT made fun and impactful contemporary tales with a desire for transmission and sharing of our common history.
Wrought recycled paper in volume as the common denominator, canvas, metal, wood, jeans, skirts as a singular pictorial expression, are the plastic alchemy of the artist.
VALMIGOT makes uncompromising artwork of great originality in which the materials are subtly diverted, thus sealing the culmination of a passion with an engaged look that overcomes any framework.
Since his first exhibition at the gallery Eleven & Demi Noumea, through the Gulf of Saint-Tropez, Montmartre, Marais and Geneva, to the Grand Palais as part of "Art Capital", VALMIGOT takes and challenges us through its humanistic expression.
Gallery
WebSite - Contact
Site:
www.valmigot.com
Mail:
This email address is being protected from spambots. You need JavaScript enabled to view it.
Tel : 06 61 35 98 78
News/Exhibitions
2016 :
-"DIALOGUE-CNFAP" ONU Palais des Nations Unies- Genève
du 12 au 28 avril 2016
-
"OLIVIA MOELO INVITE"
Musée BATTERIE DU CAP N

è

GRE- Six-Fours, jusqu'au 21 février 2016
2015:
-
"OLIVIA MOELO INVITE"
Musée BATTERIE DU CAP N

è

GRE- Six-Fours, depuis le 28 novembre 2015

- du 15 au 20 septembre Bastille Design Center 75011 PARIS
- 25 sept / 10 octobre: "JOURNEES DU PATRIMOINE" - Musée du vêtement provençal - SOLLIES VILLE
- 16 / 20 septembre: "SALON FIGURATION CRITIQUE" - Bastille Design Center - PARIS
- 19 juin / 19 septembre: "GOLD" - Galerie Art Life Gallery -SAINT-RAPHAËL
- 11 juin: "VILLA BASE'ART SHOW" - Centre d'Art Villa Aurélienne - FREJUS
- 17 avril / 11 juin: "DOLL'ART" - Galerie Art Life Gallery -SAINT-RAPHAËL
- 8 mars: "JOURNEE DE LA FEMME" - Galerie Clos Des Roses - FREJUS
2014:
- 25 / 30 novembre: "ART EN CAPITAL" / " Salon Comparaisons 2014 " - GRAND PALAIS - PARIS
- 27 septembre / 19 octobre: " EROS MALGRE EUX " Centre d'Art Maison du Cygne SIX-FOURS-LES PLAGES
- 11 septembre / 18 octobre: " ART'CITES / INSPIRATION « - Galerie L'Arrivage - TROYES - Espace Christiane Peugeot - PARIS - Maison du Citoyen - FONTENAY-SOUS-BOIS
- 19 juin / 22 juin: " BASE'ART 2014" Festival du Mécénat et de l'Art Contemporain FREJUS
2013 / 2014

:
- 5 décembre / 31 janvier 2014: " PETITS FORMATS " - Galerie Paulia Rosa - LE MARAIS - PARIS
2013

:
-19 décembre: "MAUBOUSSIN EXPOSE VALMIGOT" / « Soirée privée " - Mauboussin Joaillier - TOULON
- 4 / 8 décembre: "ART EN CAPITAL" / " Salon Comparaisons 2013 " - GRAND PALAIS - PARIS
- 28 novembre / 28 décembre: Exposition " CHRISTMAS GUN " - Galerie Polysémie - MARSEILLE
- 23 / 24 novembre: Salon " RE-CREATION " - Espace Caquot - FREJUS
- 17 / 27 octobre: "SALON DES PEINTRES" - Mairie du XVI ème - PARIS
- 1er / 30 septembre: " LES INDICES PENSABLES " - Groupe Inter Experts - SAINT-RAPHAEL
- Exposition permanente: Galerie ATELIER D'ART OLIVIA MOELO SAINTE-MAXIME
- Exposition Permanente : Galerie LA GALERIE 
LA CROIX VALMER - Golfe de Saint Tropez
- 16 / 19 janvier:
"MARSEILLE PROVENCE 2013" 
" 100 ARTISTES EXPOSENT ENSEMBLE "
Galerie ESDAC 
AIX EN PROVENCE
- Exposition Permanente:
Galerie du CERCLE DE L'HORLOGERIE 
GENEVE - SUISSE
2012

:
- 6 / 14 décembre: "VALMIGOT LA SUITE" Atelier ARTS ET CREATIONS MONTMARTRE - PARIS
- 27 novembre / 2 décembre: "ART EN CAPITAL" / " Salon Comparaisons 2012 "- GRAND PALAIS - PARIS
- Exposition Permanente : Galerie LA GALERIE LA CROIX VALMER - Golfe de Saint Tropez
- 1er juin / 3 juin: " BASE'ART 2012 " 3 ème Festival du Mécénat et de l'Art Contemporain FREJUS
- 18 mai / 14 juin: 
 "PECHES CAPITEUX" Galerie SENS INTERIEUR PORT COGOLIN
- 14 février / 6 mars: "PHI DE L'AMOUR ET DU HASARD" 
 LA SALAMANDRE - Centre d'Art 
 AVIGNON
Vidéos