L'Artiste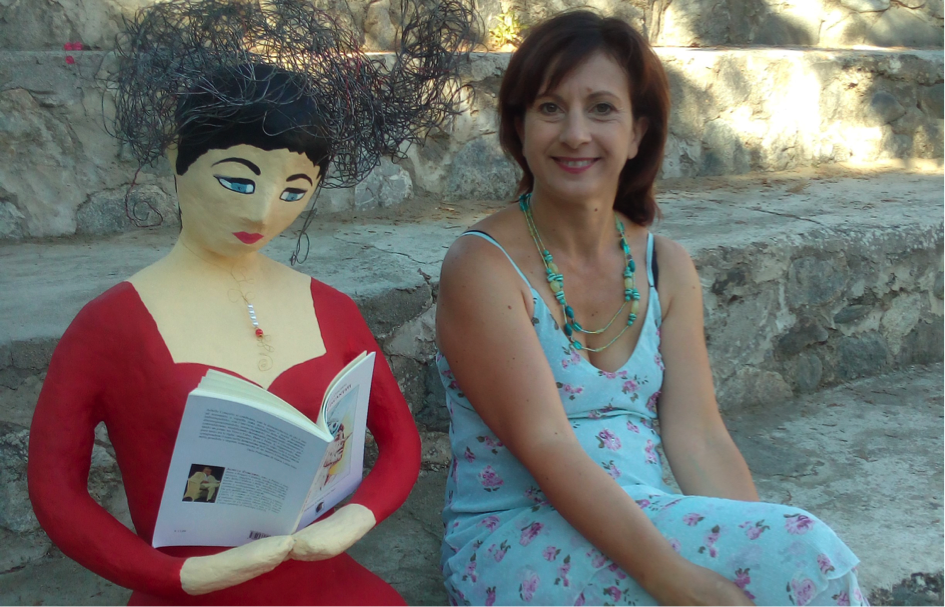 My name is Elena Iacopino. I was born in Reggio Calabria
I attended the University of Messina in Chemistry and Pharmaceutical Technologies.
I have discovered my passion for « papier-mâché » since some years, even though Art has always attracted me and I can say that it is in my veins.
I painted, participating with these painting in the first edition of "Xenia book fair" international exhibition of the outdoor book in Gallico di Reggio Calabria. I have participating too to other exhibitions.
One day I discovered the « papier-mâché » and became passionate.
This medium has ancient and noble origins. It is already present in the 4th century B. C. in the art of Magna Greeks who used linen fibers, mixed with stucco and colors to create comedy masks of the phliacic farce or cultic hanged from the branches of the sacred woods.
I chose « papier-mâché » because, like women, it is multifaceted, strong, resistant, fragile and delicate. Paper as in diaries contains secrets and stories, and every woman has her own secrets and history. Paper at the image of the women protect and warming.
The paper at the image of women know how to recycle me, for example after losing my job I have adapted casual (opportunity) jobs, always hoping to find a new commitment, who has given me the strength to never give up, now I want to start from my paper to turn this passion into a real commitment. Recycling me from a skillful account manager to a creator using this fabulous medium.
Poor art, that I want to make known with passion in my country of Reggio Calabria, land of Magnogreca, where was born the civilization that conquered the world.
A land sometimes or often tortured, but where hard working, stubborn, hard working and stubborn workers defended and rebuilt.
I created my "Bergamotta" in homage to the prince of citrus fruits the Bergamot, who grows only in the country of Reggio.
I paid tribute to Gerardo Sacco with my Aphrodite so that Gianni Versace with Medusa and my Reghjion (old name of Reggio Calabre)
I created for the second edition of "Xenia book fair" international outdoor book exhibition "Rosalia" woman who reads, because it is thanks the knowing that women can be free.
And many other creations inspired by my family, by my loves, feelings and sensations.
The strength of my sculptures is to represent all women, but in the front line the Calabrian women of Reggio Calabria who have an extra step.
As my "Bagnarote" reggine or "Mergamotta" at the image of my town Reggio Calabre who was born again after the terrible earthquake in 1908
Like me, as I emerged from the terrible earthquake of the loss of my first job, I got up again with the help and passion for this art.
Additional, I participated in the summer poetry r
Additional, I participated in the summer poetry review for the cultural association Anassilaos.
I will participate in the third edition of "Xenia book fair" at the prize of the metropolitan city of Reggio Calabria
Now some of my sculptures are exbit at the Art Gallery "Toma" Corso Garibaldi Reggio Calabria.
Contact me :
Messenger Elena Iacopino
Email: このメールアドレスはスパムボットから保護されています。閲覧するにはJavaScriptを有効にする必要があります。
Fb Elena Iacopine
Pintarest
Instagram
Galerie
Site Web - Contacts
Contactez-moi sur :
Messenger Elena Iacopino
Courriel: このメールアドレスはスパムボットから保護されています。閲覧するにはJavaScriptを有効にする必要があります。
Fb Elena iacopine
Pintarest
Instagram
Actualité/Exposition
- "Xenia foire du livre" exposition internationale du livre en plein air à Gallico di Reggio de Calabre
- Gallerie "Toma" à Reggio Calabre


Vidéos